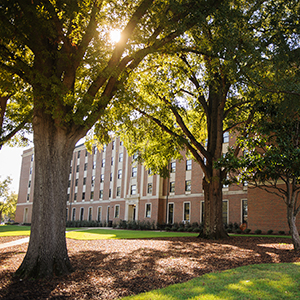 The College of Engineering is excited to introduce a new living-learning community for freshmen in engineering and computer science. EXCEL: The Engineering and Computer Science LLC will be housed in Paty Hall and provide its members the opportunity to live, learn, and study together with peers who share their interests. Members of the EXCEL Community also benefit from focused academic advising, common courses, mentoring, and tutoring. Students are afforded a unique opportunity to engage in a wide variety of student organizations sponsored by the College of Engineering.
If you are interested in being a member of the EXCEL Community, please complete the information below. Applications will be reviewed in late March and students will be notified of their acceptance at that time. After initial reviews, students will continue to be admitted on a rolling basis until spaces are filled. To reside in the EXCEL LLC, applicants and their roommates must both be a freshman engineering or computer science student and a member of the EXCEL LLC.
If you are interested in other living-learning communities, including the Engineering Community in Bryant Hall, the Delta Initiative: Capstone Women in STEM, or one of the Honors LLCs, please visit Housing and Residential Communities.
Students must also complete the housing application to live in this community. If you have not already completed it, please apply here.
If you have any questions, please email Greg Singleton or call Engineering Students Services (205) 348-1815.