The world is on the edge of another industrial revolution, and Alabama's manufacturing economy is on the rise. There are more than 265,000 manufacturing jobs across the state which account for almost 20% of all jobs in the West Alabama.
Through Alabama IMaDE's focus on advanced manufacturing and industry 4.0, The University of Alabama will provide unmatched workforce development opportunities for Alabama's current and future industry through industrial partnerships, industry guided training modules, and the coordinated transition of innovative research products to our educational curricula.
MAJOR ACTIVITIES UNDER Alabama IMaDE
Innovating Educational, Research, and Career Pathways:
Alabama IMaDE will provide unmatched integration of educational, research, and career pathways in cutting-edge industry-relevant manufacturing principles, technologies, and management techniques to
University students.
Local/national/global industry.
The existing regional workforce.
The future workforce.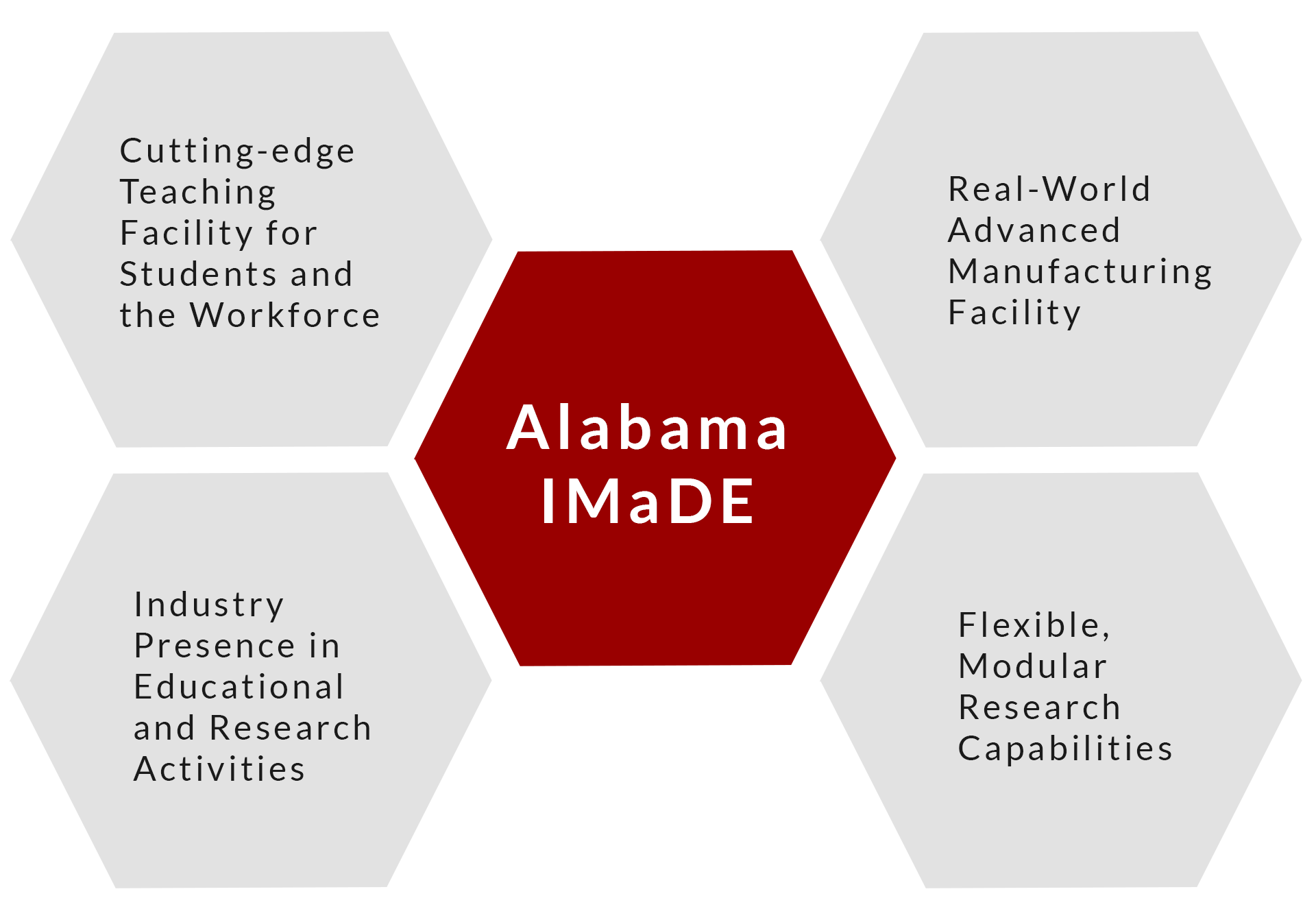 Fostering Innovation for Industry 4.0 and Advanced Manufacturing:
Alabama IMaDE will foster a new innovation centric culture and infrastructure that leverages and supports the region's vital manufacturing sector. Programs under this initiative will cultivate novel application driven intellectual property and manufacturing centric startups while establishing unique communication and networking channels between industry, academia, and innovators. Alabama IMaDE will enhance the academic experience at The University of Alabama with project based learning, real world regional case studies, and opportunities for internships, cooperative education, and employment at the frontier of the emerging manufacturing sector through and beyond industry 4.0.

Industry 1.0
Steam, Hydraulics, and Mechanical Power Transmission
Industry 2.0
Electrical Power, Mass Production, and Assembly Lines

Industry 3.0
Computer Aided Manufacturing, Automation, and Robotics

Industry 4.0
Cloud Computing, Connected Factories, and Autonomy
Pragmatically, the development of this culture and infrastructure will grow the regional manufacturing economy by introducing new start-up businesses, increasing employment opportunities in the manufacturing sector, generation new manufacturing-centric IP, and attracting entrepreneurial and manufacturing talent and investment to the region.
UNIVERSITY-LEVEL ACTIVITIES
Revolutionizing Additive Manufacturing and Repair:
Researchers at The University of Alabama are developing, demonstrating, and applying innovative computational modeling methods and design concepts for cost-effective, accurate, and safe manufacturing and repair methodologies for transfer to public and private stake-holders for implementation.
Incubating Novel Manufacturing Concepts and Start-Ups:
Through the development of a new innovation and entrepreneurship incubator, The University of Alabama will create an agile, collaborative, and innovative environment for the maturation and demonstration of advanced manufacturing technologies, education, and local industry needs.
Reinforcing the Manufacturing Workforce:
Consistent with the educational and outreach activities through Alabama IMaDE, The University of Alabama is working to grow existing and initiate new collaborations between government, industry, and academia through public – private partnerships, while promoting STEM and workforce development.
Generating new Manufacturing Technologies:
Through Alabama IMaDE, students and researchers at The University of Alabama will lead the way in the integration of multiple, cutting edge technologies and processes, demonstrating significant improvement in manufacturing producibility, affordability, and repeatability.
For future partnerships or additional information on Alabama IMaDE, please contact the director of the initiative:
Nader Jalili, Ph.D.
Professor and Head
Department of Mechanical Engineering
Director of the Alabama Initiative on Manufacturing Development and Education
College of Engineering
The University of Alabama
3037 H.M. Comer Hall
Phone: 205-348-1645
Email: njalili@ua.edu
Web: eng.ua.edu/eng-directory/dr-nader-jalili